UPCOMING EVENTS
– THANK YOU FOR OUR NEW FACE!!  Sans plastic surgery!
– MEN'S BREAKFAST – Fri, May 17
– COMMITTEE MEETINGS – Sun, May 19
– CELEBRATION OF LIFE FOR PEGGY SPARKS – Sun, May 19
– UMW BOOK CLUB MEETING – Th, May 30
– HABITAT FOR HUMANITY WORK DAY – June 1
– KNITTING MINISTRY – Thu, June 6
– WORSHIP IN VELTUS PARK AND POTLUCK – Sun, June 9
– CELEBRATION OF LIFE FOR CAROLYN ODELL, STEAMBOAT SPRINGS
– June 15
– SAVE THE DATE FOR VACATION BIBLE SCHOOL – Mon, Aug 5 through
Th, Aug 8
– ECUMENICAL COMMUNITY VACATION BIBLE CAMP – Mon, July 22
through Fri, July 26
– PASTOR'S COLUMN
**ADDITIONAL INFORMATION**
THANK YOU FOR OUR NEW FACE!  Sans plastic surgery!!  Thanks to their creativity, skills, and countless hours, Lori and Martin Kollman have given us a new look to the people of the world!  Check out our new website by clicking on the link after the Pastor's Column.  It is very attractive and eye-catching as is, and will continue to change, evolve, and grow.  Be sure to thank them for their hard work as well as thank Rilla Snyder for all her work with Webpage 1.0 over the years.  We are truly blessed to have so many talented people willing to share their skills and give their time on our church's behalf.
MEN'S' BREAKFAST – join us for discussion and fellowship at the Valley View Hospital cafeteria at 7:30 a.m on Fri, May 17.
COMMITTEE MEETINGS will be held this Sun, May 19 in the usual locations right after the worship service.
CELEBRATION OF LIFE FOR PEGGY SPARKS will be held this Sun, May 19 at 2 p.m. in Bethel with refreshments and conversation following.
UMW BOOK CLUB will meet on Th, May 30 at 9:30 in the Parlor.  We will gather at 9:30 in the Parlor for fellowship and food with the meeting beginning at 10.  Haven't attended before?  Not a problem; come join us!
The HABITAT FOR HUMANITY WORK DAY will be held in Basalt on Sat, June 1.  The list of workers has been filled; this is just a reminder to those who have signed up.  More details to follow.
Neither rain, nor shine, nor summer activities will deter our KNITTING MINISTRY – Please join them on Th, June 6 from 2-4 at June Robinson's home for knitting and crocheting with love for others.  Don't know how to knit?  There are plenty of patient, talented ladies who will be happy to teach you!
The almost annual Methodist WORSHIP IN VELTUS PARK AND POTLUCK is scheduled for Sun, June 9 at 10.  Please plan to bring a lawn chair, a dish to share, and your own table service.  This has always been a fun and special service; please plan to attend.  We hope to have some members from the Carbondale and/or Basalt Methodist Churches join us.  (An ecumenical service at Sayre Park and potluck are scheduled for June 30.)
CELEBRATION OF LIFE FOR CAROLYN ODELL – will be held at the Steamboat Methodist Church on Sat, June 15.  More details will be in next week's newsletter.  Carpool signup will be at the back of the Sanctuary this Sunday.
SAVE THE DATE FOR VACATION BIBLE SCHOOL – it will be here before you know it!  Our church will be hosting VBS again this year on Mon, Aug 5 through Th, Aug 8.  If you wish to volunteer, talk with Lori Kollman or Connie Geiman.
ECUMENICAL COMMUNITY VACATION BIBLE CAMP – "You Are Welcome Here!" will be held Mon, July 22 through Fri, July 26. Taught by volunteers from St. Stephen Presbyterian Church of Fort Worth, Texas, and five Glenwood churches, the camp will feature arts and crafts, games, Bible stories, movies, music, science and water activities. The day camp includes free lunch and snacks, too! Find out more at 970-945-6848 or register online atwww.glenwoodvbc.com.
PASTOR'S COLUMN
Ah, summer! Time for getting away … can you hear a vacation calling? For some unknown reason, whenever Carol and I take any kind of a vacation that involves travel, we always forget something important – and it's never the same thing. Once I forgot my shaver … had to buy a new one for $75 … ouch. Once I forgot a belt – and attended workshop sessions afraid that I would get "caught with my pants down … Thanks, a lot gravity!" We've made lists. We've put notes in phones. We've reviewed the day before … the night before … the morning we're leaving – but something is always missing. It used to drive us crazy … now its more of an expected irritant.
How about you? School is out in a couple of weeks. Graduation (high school and college) happens even sooner. Are you planning to "get away from it all?" Maybe see a new part of the world … or visit family that you haven't seen in a while. Or maybe it's to attend a graduation, family reunion, or wedding – yep, its wedding season, also! Somebody told me the other day that they had been invited to six different weddings this summer!
Regardless of what your "time away" plans are … or how exactly you're going to get away … pack carefully. Remember the things that are the most important. (To help you remember, just picture me clutching at my pants to keep them from falling to the floor!  Nobody wants to see that!)
Oh, and one more thing "not to forget." Our church will continue to function throughout the summer. Bills will still be due. Payroll will need to be met. And there might even be unexpected expenses … like the bats that infested First UMC, Glenwood Springs last summer! Try not to forget your faith-full giving that makes Christ's ministry possible 12 months each year. It's really important because nobody wants to see a church get caught with their "financial pants down."
Enjoy the beauty of God's creation and the chance to connect with family and friends this summer.
See you in church when you get back!
Dave
WEBSITE ADDRESS – http:/glenwoodumc.com
May 19 Reminders
GREETERS:  Phyllis and Bill Coleman
USHERS:  Darlene and Bill Cook
COMMUNION SET UP:  Martin and Lori Kollman,
Darlene Cook, Connie Geiman
CHILDREN'S CHURCH:  Molly Hoey
LITURGIST:  Elizabeth Pruett
REFRESHMENTS:
Molly Hoey
Office Hours 
MONDAY – 9 am – 3 pm
TUESDAY – 9 am – 3 pm
WEDNESDAY – Closed
THURSDAY – 9 am – 3 pm
FRIDAY – Closed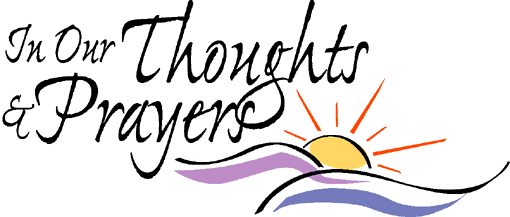 THE FOLLOWING PEOPLE CAN USE OUR PRAYERS
Ed Odell, and the Odell family for comfort on Carolyn's passing
Marilyn Wiggins for solace and healing
Consolation for family and friends of Peggy Sparks on her passing
Robert Polleys for comfort and relief from pain after being diagnosed with pancreatic cancer
Robert's daughter, Grace Anne Polleys for comfort
Stacie, Betty Patrick-Rubish's daughter, who is having health issues
Cedric Talbert during his battle with leukemia
Individuals, family, and friends of our church family who are in need of healing and comfort from health concerns
MISSION PRAYER FOCUS FOR THE WEEK
United States: Moore Community House, Biloxi, MS
Nepal:   Milijuli Samaj Nepal. Women's Survival Training–training rural women in survival skills and job preparedness for agricultural work.
Thank you for lifting up those in prayer
God is at work because of it!
 "The fervent prayer of a righteous person is powerful and effective."  James 5:16b